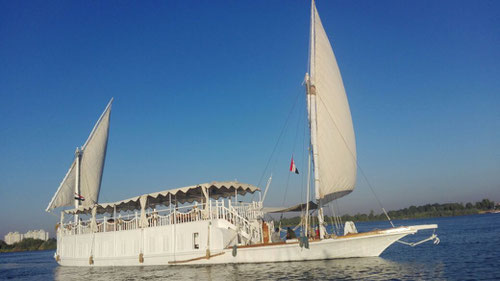 Latest News
Johanna Marius, BPW Munich, and her dahabiya ABUNDANCE on the Nile.
With a sailing yacht you can travel in Egypt like in old days. In the middle of the 19th century, many British lords, sultans, and kings explored Egypt and the Nile. They had their own small luxurious private yachts and travelled the Nile to enjoy the incomparable shoreline and the tombs and temples on their way up the Nile.
A number of world-travelling women sailed the Nile on dahabiyas as well, perhaps in a little less luxurious, but more adventurous way, i.e. Amelia Erhart, Florence Nightingale and Lucie Duff Gordon. 
The modern sailing yacht ABUNDANCE is built in a nostalgic way and furnished with great attention to detail. The building and furnishing style of the dahabiya is based on a historical model with elements from the Belle Epoque of Egypt.